Personalization made possible with Semihandmade's DIY fronts
For many customers, having a "cookie-cutter kitchen" is the last thing they want. IKD customers Cheryl and Dennis were no different when they recently decided to re-imagine their new construction home with IKEA cabinets.
"This is a second home we were building along the Tennessee mountains, but the post and beam kit didn't allow us much room for personal flair. We didn't want to be pigeon-holed into a rustic look [which is common in post and beam construction], and we saw an opportunity to get past that by painting the kitchen a vibrant Benjamin Moore turquoise blue," Cheryl explains.
To accomplish this, the couple found IKD online and began working with IKD designer Richard who cleverly suggested that they combine IKEA SEKTION cabinetry framework with Semihandmade's (SHM) slab panel DIY (unfinished) door fronts. This established the ideal palette for the couple's vision. Plus the slab-style fronts — seen in the upper wall cabinets and base cabinets — create a retro/modern design theme, particularly when matched with the Silestone Ethereal Glow 2cm thick white countertops, and the stainless steel appliances. (Designer note: There are roughly 45 square feet of countertops in this kitchen, priced at $77 per square foot, with a total price of $3,465).
Of course, it was also important for Cheryl and Dennis to maximize the space of their turquoise blue IKEA kitchen, as the layout featured very tall (170") ceilings. Here, Richard was able to accommodate their request of reasonably high storage by double-stacking some cabinets, adding Semihandmade's Walnut floating shelves over the small bar area, and customizing five wall cabinets. Additionally, the kitchen features a small island, which meets the clients' request for a more manageable use of the space (as evidenced by their selection of the 24" wide SMEG stainless steel refrigerator).
The end result is an eye-catching and efficient kitchen, with some of IKD's signature IKEA cabinet hacks thrown in for good measure. (Remember: IKD was recommended by the New York Times as a design resource for IKEA customers considering custom doors for their cabinets.) In total, Cheryl and Dennis' 19 IKEA cabinets cost $2,159, plus $673 in Extra Items. They were also able to buy the SHM doors during a 20% off sale bringing that total to $4,348. So, their total kitchen costs (without installation or appliances included) came to $10,465, well within their original budget of $15,000.
"We're so very pleased with how our IKEA kitchen came out," says Dennis. "The turquoise cabinets look fantastic and make the entire space so enjoyable. Richard did a great job solving some of our spatial concerns as well. We're very glad we chose IKD."
Let's see how Cheryl and Dennis' kitchen came together!
Turquoise Blue IKEA Kitchen DIY
The kitchen required some unique cabinet fronts in order to capture the look Cheryl and Dennis wanted.
Specifically, the couple selected Semihandmade's slab panel DIY (unfinished) door fronts and painted them turquoise blue using paint from Benjamin Moore. According to SHM, "the DIY Slab style is [a] widely popular paintable option for those looking for a clean, flat front and endless color choices." The fronts are featured prominently throughout the layout, including the upper cabinets found above the KitchenAid four-burner gas cooktop and range hood; the tall cabinets around the refrigerator, and additional internal drawers next to both the refrigerator and sink. Notably, despite the kitchen being a large, open space, the couple decided to only include about 40% (or about 285 square feet) of the layout with cabinets.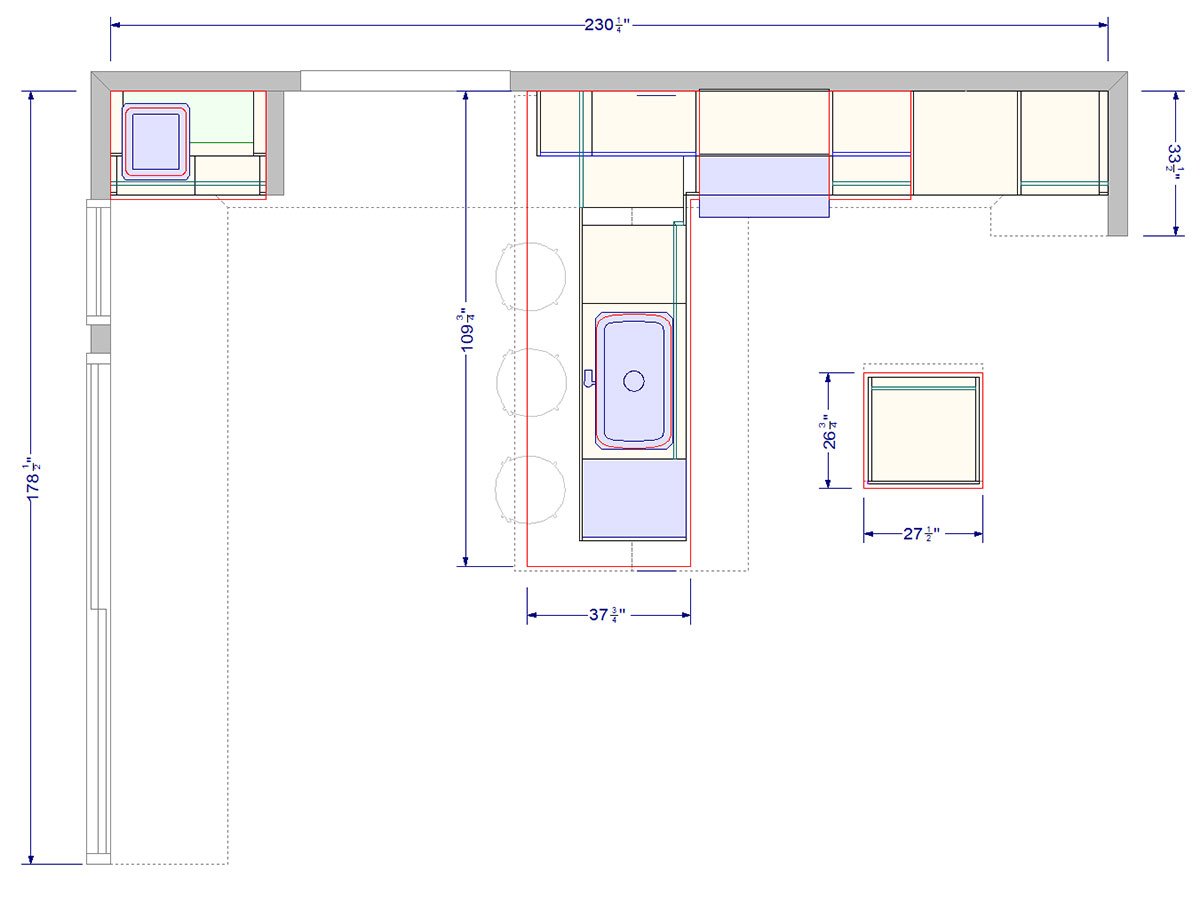 Customized Space
Indeed, their couple's kitchen features some clever, custom design solutions.
For instance, by double-stacking some cabinets (such as those above the refrigerator), as well as incorporating IKEA cabinet hacks into five wall cabinets, we were able to maximize their kitchen storage space. Specifically, we brought the cabinets up to 110″ — which make the upper cabinets ideal for storing bulk food items — and yet still accessible as needed.
In regard to the IKEA cabinet hacks, we reduced the height of a 15″ high wall cabinet to 10″ to fit adjacently to the range hood. We also created an 18″ wide wall cabinet from an original 24″ wide wall cabinet and converted three more wall cabinets to use uplift doors.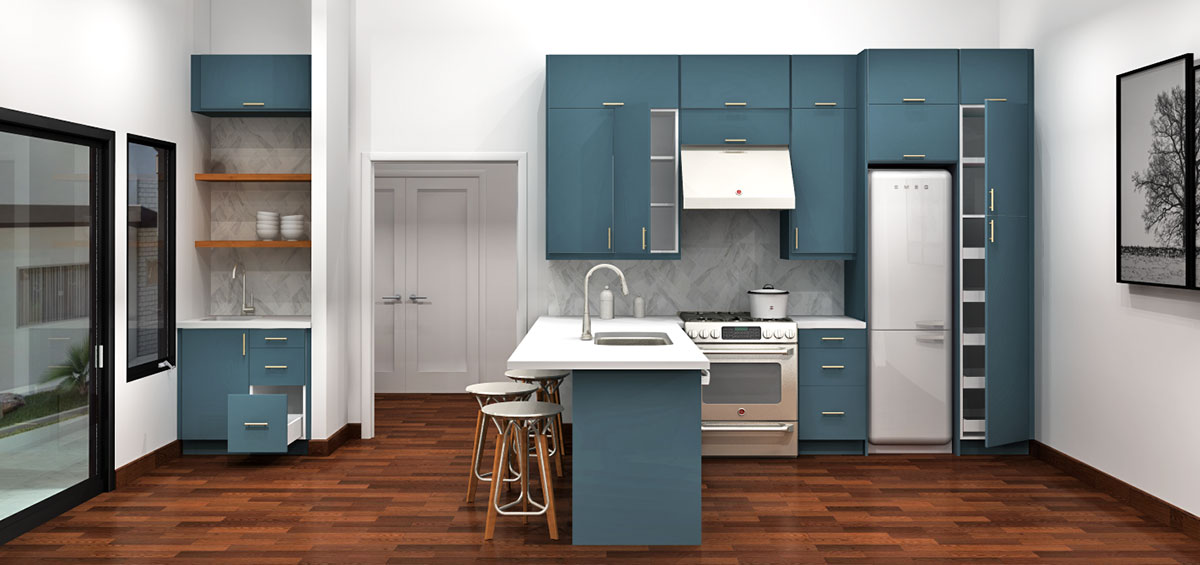 "Since this is our second home, we didn't want to feel like we were wasting space. That was incredibly important to us," Cheryl notes. "We didn't originally understand how some of Richard's solutions would work, but now love how we can maximize our space without wasting any space. Everything really feels like it's at arms' reach."
Island Style
In keeping with their desire to not overuse space in their IKEA kitchen, Cheryl and Dennis requested a small 24″(W)x24″(D) peninsula island.
"The peninsula is ideal for our dinner prep, especially with the drop-in sink and plenty of counter space," she says. "It also makes clean-up easier as the dishwasher is located there too, so any dirty dishes we use in food prep get put away easily."
Richard adds: "They also wanted a small bar niche, so we found a 33″ space and designed it with a small sink and two Semihandmade walnut floating shelves to hold the glassware. The couple considered corner base cabinets unnecessary, so they had just left that area empty, and now it adds a lot to the layout." In addition, he designed a retro-fit door along the back of the peninsula to access that unused, empty space as well.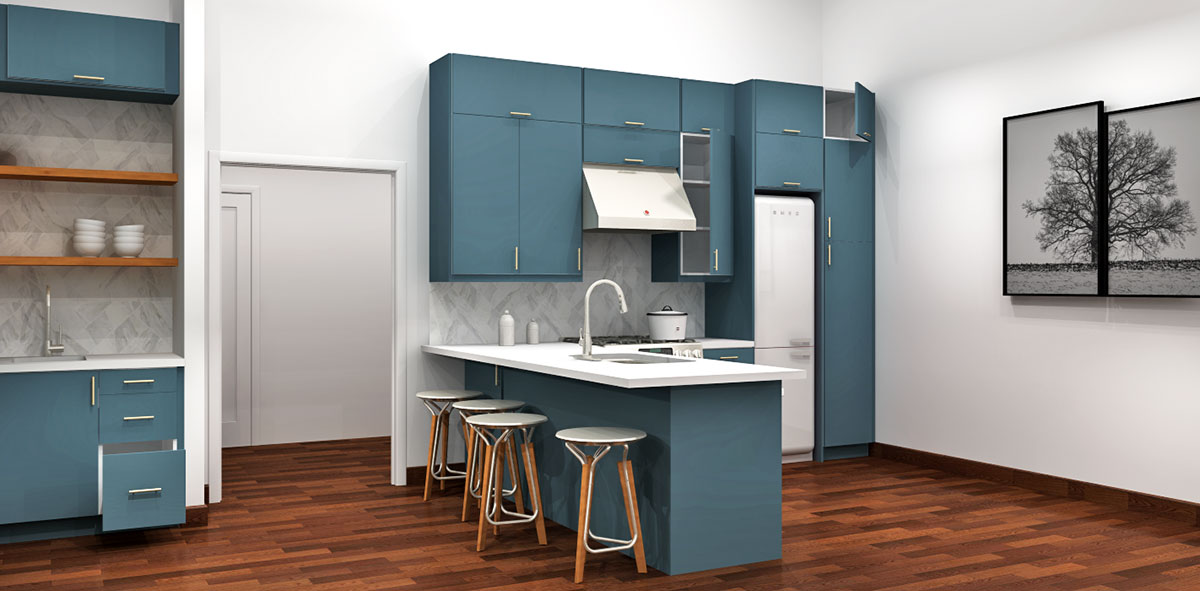 Cheryl concludes: "We were so impressed with how well the bar area came together. The floating shelves are a great storage addition and they complement our dark wood floors nicely. Overall, this is exactly what we hoped our IKEA kitchen would look like when it was done!"
IKD's Summary: This kitchen was very original, especially the eye-catching turquoise color of the kitchen and the fact that the customer painted the cabinet doors themselves. The customers had a clear vision of what they wanted and were very hands-on which — combined with the custom cabinet fronts from Semihandmade — enabled our team to design a very personalized and unique kitchen!
Learn more about how we can design your IKEA kitchen, bath, laundry room and other rooms at inspiredkitchendesign.com.
Credit lSource link